Line Up
By Atelier DR
Yes you can!
Produce your own "Line up" armchair: Attend the manufacturing of each item and do it yourself: assembly and the finish.
Line Up is welcoming you with open arms with its wide armrests. Respectful but also daring, Line up is easy to assemble. There is no need for cheap tools or glue.
You can customise your chair using the finish between a variety of woods & colour. Customise it yourself to fit and match your home.

How does it work?
- Either you come to the Fab Lab to take part in the production of your chair (with advice from the fab manager)
- Or you can receive your finished Line up with your chosen colour (extra of 150€)

Have you always thought you had no manual skills?
Have you always wanted to create something but you didn't have the opportunity...?
NOW YOU CAN !!!
Thanks to Fab Lab you can create yourself a splendid designer armchair!
The principle is that you assist in the creation of the the chair and in the Fab Lab the digital milling machine will cut your wood to size before your eyes.
Once done, you and the fab manager will sand the pieces of your armchair, you'll assist in assembly and choose the finish.
You can be proud to say you made it yourself! Seriously your Line-up armchair is a knockout!
"Escape the aesthetic stereotype… replace the purpose with emotional design"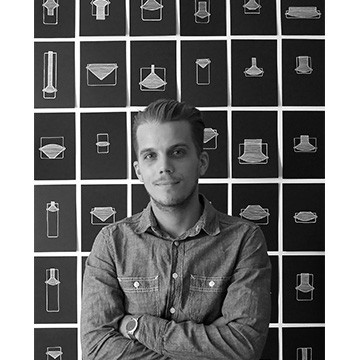 C'est dans les allées des innombrables brocantes et antiquaires parcourus dans son enfance que Romain Desglands s'est  découvert une profonde passion pour l'objet, et c'est un tailleur de pierre qui lui inculquera très jeune le goût de la matière.
Diplômé de l'ESAD de Reims en 2011, il fonde l'Atelier DR avec pour objectif de développer un design global responsable.
« Un atelier est la parfaite illustration la démarche créative. Le temps de voir et de réfléchir, de méditer, de flâner, de chercher à sentir ou toucher, de créer très simplement. »
When will I be delivered?
Le Point D offers customizable products (colors, materials ...) to make a unique product! Also you will have to wait a few weeks but we are convinced that it is worth it! We do not have stock and your product will be launched in manufacturing the day of your order.
Delivery time is 6 weeks: this includes manufacturing time, quality control and delivery to your home.
Once your order has been placed, we will send you various emails informing you of the progress of your order. From its manufacture until its imminent delivery. In short, we will not leave us! You can also access these elements from your customer area on our site, section "History and details of my orders".
How much will be the cost for the delivery ?
For each product, we indicate the amount of the shipping costs when placing the order. These are calculated according to the country of delivery, the chosen service and the weight of the products ordered.
Standard delivery is delivery to your home, doorstep or down the building. You can also pick up your product directly at our warehouse in Valence (France - 26, Drôme)
For heavy products, a Premium delivery service is offered to deliver you to the floor if you live in an apartment or to plan a specific delivery time.
The carrier (GLS for parcels <30kg and Kuehne Nagel for parcels> 30Kg) will contact you directly by phone, to agree on the date and the time slot that suits you the best for the reception of your product.
And how are the packaging and the shipping going ?
Le Point D performs a rigorous quality control of your product before shipping to your home. In order to deliver a product that meets your expectations and requirements, each product will be packaged in a wooden box or a double flute cardboard box to resist shocks during transport. Beforehand, the product is packed in douffine or bubble to effectively protect the materials. The products are delivered assembled (with the exception of the legs on some products).
Upon receipt of your package, you are entitled to refuse delivery if you consider that the product has suffered damage during transport. No additional fees will be asked.