Memphis
By Le point D
Memphis, a sesigned desktop divider screen
The 2020 lockdown's period greatly changed everyone's habits. Respecting hygiene measures, barrier actions & social distancing have become a priority for everyone, encouraging workspaces, especially co-working & open-space (places gathering many people in the same room), to adjust & reinvent their layout.
Our new designed desktop divider screen, Memphis, will wonderfully delimit each workspace and play its protective role and anti-spray barrier.
Thanks to its main component (pressed felt), this screen also serves as an acoustic cell and noise barrier.
Strongly inspired and influenced by the trend of the Memphis group, a design and architecture movement that emerged in Italy during the 1980s ; the legs of this office divider offer simple geometric shapes in pop colors, produced in collaboration with cabinetmaker Ben & Manu, based in Valence.
Benefits : Protection, soundproofing & design decoration, all gathered in 1 piece !
And to top it all, the art piece is eco-responsible since the felt used for the screen is made of 100% recycled polyester fibers & the feet are made of French wood !
"Design, original & colorful office furniture - signed Le point D"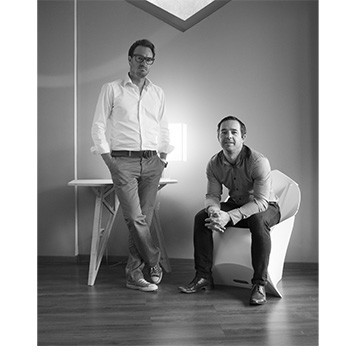 « Le point D, ce sont 2 trentenaires qui amènent une nouvelle dynamique à un parcours professionnel déjà bien accompli. Comme ce sont des papas investis, le destin a eu la brillante idée de les faire se rencontrer à la crèche (commune) de leurs enfants (respectifs). A les voir travailler ensemble, leur rencontre semble juste une évidence : à la fois très professionnels mais décontractés, investis mais modestes, posés mais drôles … Et comme ils sont trop sympathiques, ce n'est même pas énervant ! »
Sylvie – Responsable Produits  
Au-delà de leur amitié, ils partagent des valeurs communes fortes : le goût des belles choses, l'innovation, l'authenticité et le partage. Ils créent donc des produits à leur image, basés sur leurs postulats : aborder le design de manière décomplexée et rendre le beau accessible.


When will I be delivered ?
As fast as possible, of course ! Le Point D is committed to delivering the products of its decorative selection in 5 working days in France !
Once your order has been placed, we will send you various emails informing you of the progress of your order. You can also access these elements from your customer area on our site, section "History and details of my orders".
How much will cost the delivery ?
For each product, we indicate the amount of the shipping costs when placing the order. These are calculated according to the country of delivery and the weight of the products ordered.
Colissimo is our preferred carrier for decorative objects.